June 1, 2020
At this later time in my life, I have a few favored ways to spend leisure time.  One of them is sitting in my garden, or on my porch, looking at it.  Sometimes,  I do nothing but stare.   At other times, I share it with friends, over drinks or with long conversations.  People visit me at this house, and in the summer the evening light is late.  Sitting in the garden is like having another room, or another series of rooms.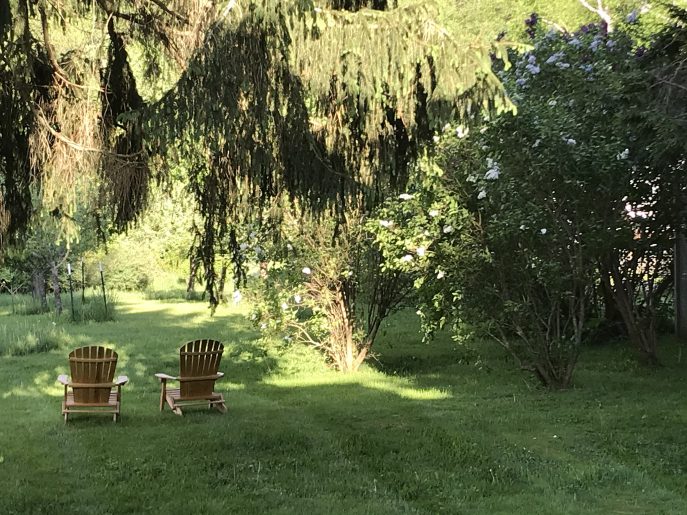 I get up, and first thing in the morning, when I come downstairs, I walk outside to look at the plants; the huge purple lilacs, at least 12' tall, that were here when I moved in; the other lilacs that I added; nine apple trees which we pruned this winter and that flowered last week.
Many afternoons, I spend an hour or so pruning overgrown shrubs. This morning, before breakfast, I worked on restoring an overgrown hedge. The gardener and I cut it back sharply before winter, but it was still filled with dead branches. It doesn't look good yet, and I am learning my way forward, but it now has sunlight in its center, and there is already new growth from the ground up.
Would it be such a limitation to spend my life visiting friends, reading books, and taking care of this garden? Is it the need for money or the need for something else that takes me out of here? Why isn't this enough? Why can't this be enough for all of us?
The answers are obvious. Not everyone gets to have a garden. Not everyone respects other people's gardens. Everyone who has one wants to keep it; not everyone is satisfied with the garden they have.