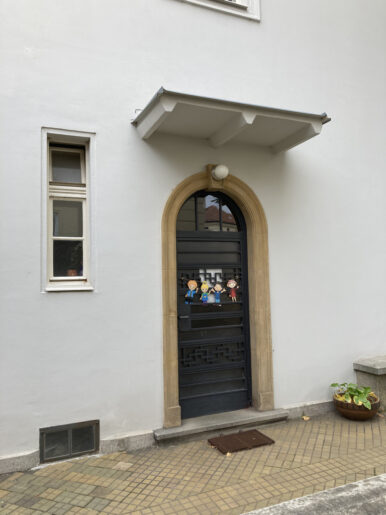 Yesterday I returned to Vienna by train from Znojmo, in the Czech Republic. Znojmo was the terminus of my trip, suggesting old links with Austria; however, the train was almost empty when it reached the town on Tuesday morning, and there were relatively few passengers at the beginning of my return. The train is much more crowded as it nears or leaves Vienna. Otherwise it makes a number of stops at smaller country-side stations, on a trip of about an hour and three quarters.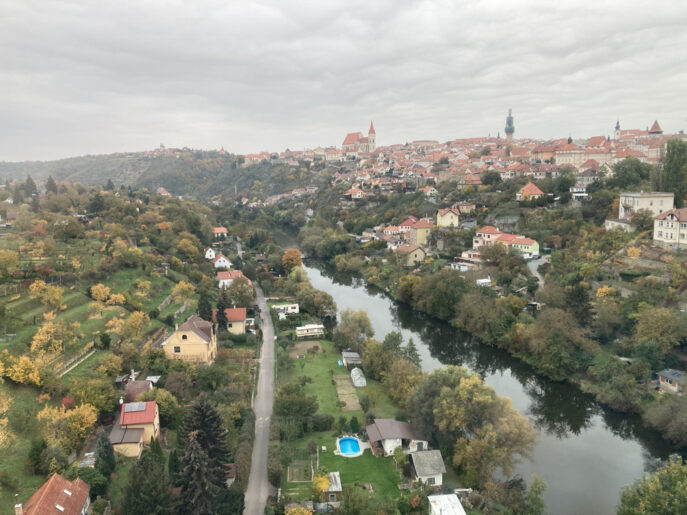 I am living some months this year in Vienna, to better understand my past and its present. Under new legislation (much delayed), the Austrian government gave us citizenship in September 2020, and a city of limited interest (to me), became intriguing. My mother was born in Vienna in 1928 and escaped to the United States in 1939.
My visit to Znojmo was suggested and organized by a cousin, Lilian W. S., also born in Vienna, in 1933, and whose family lived in Znojmo before escaping to Switzerland at the end of 1938 and to United States in 1941. Lilian then grew up in New York and married a cousin of my father. But she has kept contact with her home town. She reached out to a friend and asked him to organize a visit to her family's former house, and to her maternal family's factory.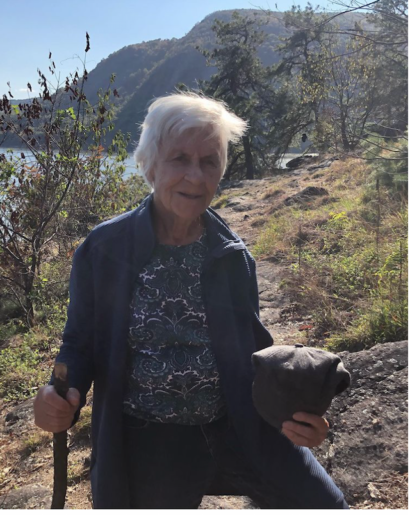 Znojmo is in Moravia, and Moravia and Bohemia were governed by the Austrian Hapsburgs, from the 16th century until 1918. The population was a mixture of Czechs and Austrian Germans, although the border areas were more heavily German, the eventual basis for Nazi claims. Znojmo (Znaim in German) is in this border area, then known as the Sudetenland, and annexed by Germany following the infamous Munich agreement of September 1938. At the end of the Second World War, the German population was pushed out.
Jews also lived in Znojmo beginning in at least the 14th century. The community was probably the largest in Moravia in the early 1400's, but was then expelled in 1454 and not permitted to return until 1851. (In Vienna, we were expelled in 1670, but there were exceptions. Austrian emancipation was granted following the Revolution of 1848.) An impressive Moorish revival synagogue was built in Znojmo in 1878. It burned on Kristallnacht, in November 1938, and was eventually torn down.
Lilian's family, Weinbergers on her father's side and Lichtensterns on her mother's, were successful industrialists. Her paternal grandfather, Alfred Weinberger (1860-1955) was born near Brno and owned a leather tannery in Znojmo. Her maternal grandfather, Oskar Lichtenstern, was born in Vienna in 1878 and moved to Znojmo following the Lichtenstern family purchase of the existing Rudolf Ditmar ceramics factory in 1912. The Lichtensterns later added a second Czech concern, creating Ditmar Urbach, to their original factory in Wilhelmsburg, west of Vienna. They shifted to the production of sanitary ceramics and opened subsidiaries in central Europe, Switzerland, Milan and Bombay. The businesses were expropriated by the Nazi's in 1938 and 1939.
Before the War, Lilian's family was oriented to Vienna; both sides of her family had property there; some eventually returned to Austria, but not to Czechoslovakia. Lilian grew up speaking German, and in her occasional strict reserve, she is still, subtly, a refugee and Viennese.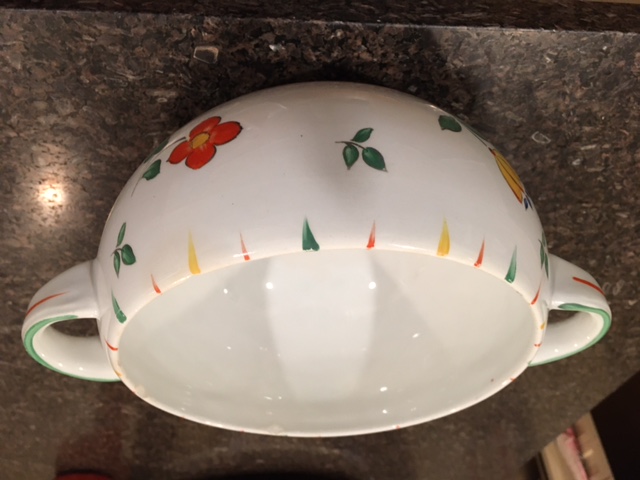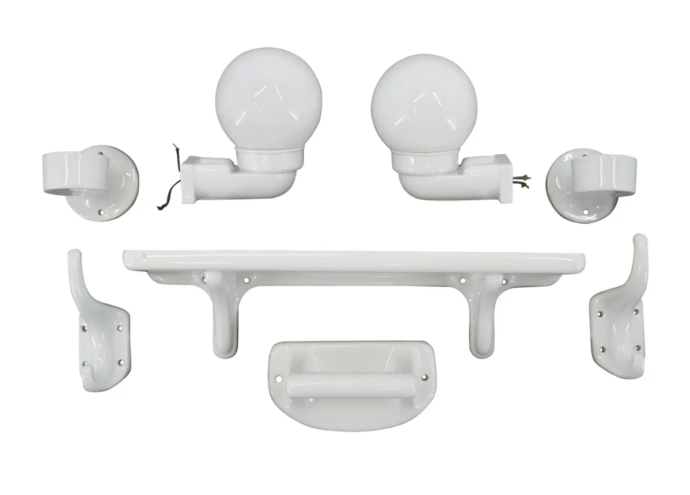 Beyond the outskirts of Vienna, the train rode through a relatively flat landscape, but it undulates a bit, and the fields are very beautiful. As we crossed the Czech border, a new conductor scanned my ticket for a second time. Approaching Znojmo there is more forest, and the landscape is more mountainous, although the elevations are modest. The town is on a rise, overlooking the Dyje River.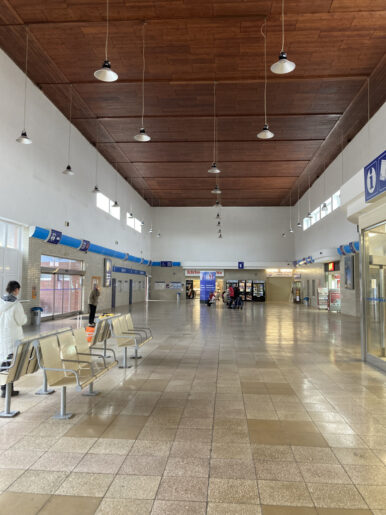 Lilian's friend, David G., met me at the station. We walked into town, past the outer Ring (in the Viennese style), past the greenbelt that replaced the city's fortifications, past a late-19th century apartment house that had belonged to his grandparents, and into the old town center, organized around two public squares. Znojmo is not large, at about 33,000 residents, but it is concentrated, with an attractive and well-maintained historic core, a mixture of medieval, baroque and 19th century buildings, some courageously modernist 1930's structures, and some very nice cafés. My hotel was small, some steps down from a medieval/baroque church, and from my room there was a view over the town's outer districts, to the river, reservoir, and forested mountains. The weather was cool and the leaves were changing color.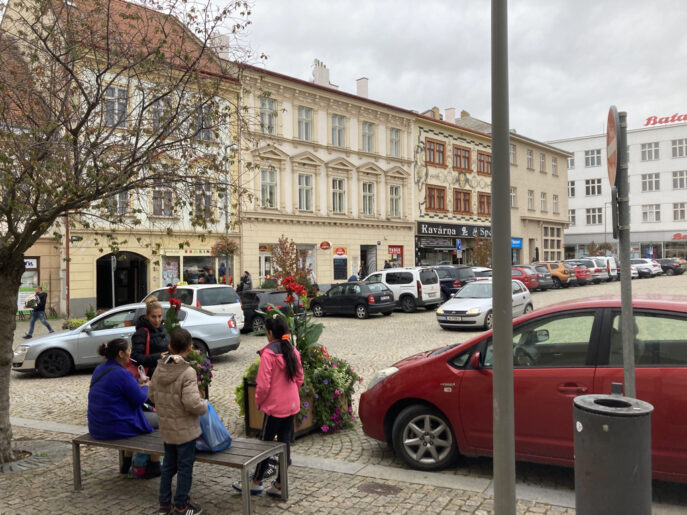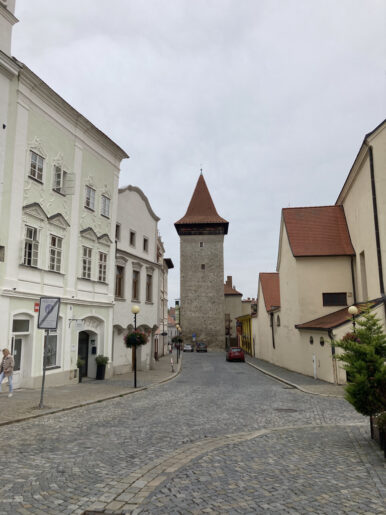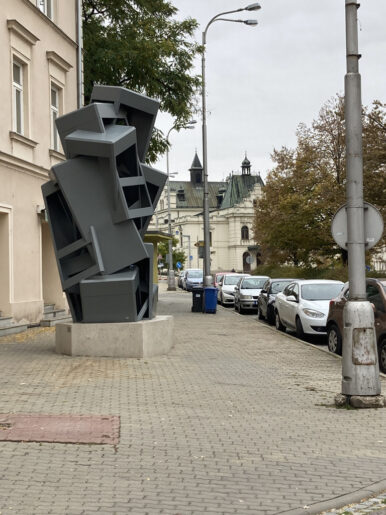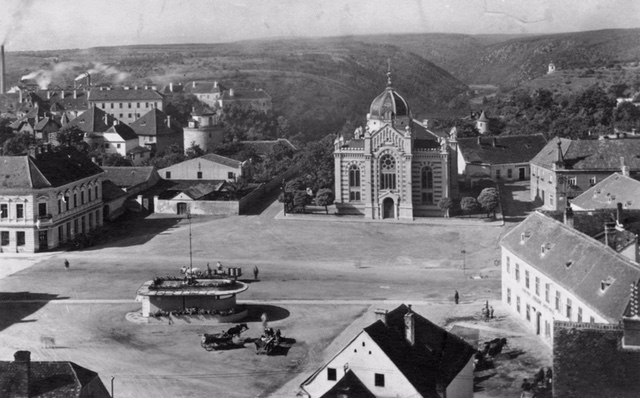 David showed me around, and we had lunch before a 2:00 PM appointment at Lilian's childhood house at 19 Rudoleckého Street. In the 1920's three houses were built for Alfred Weinberger and his two sons, Hans and Fritz. They were side-by-side, in a newer neighborhood, outside the former city walls. In the years after World War I, Rudoleckého Street was known as Wilson Street.
Lilian's house, that is her father Hans' house, was designed by the Jewish/Czech architect Norbert Troller, with the interiors done by a Viennese architect and designer, Armand Weiser. The houses are still standing, but only the Hans Weinberger house is accessible; it is a nursery school.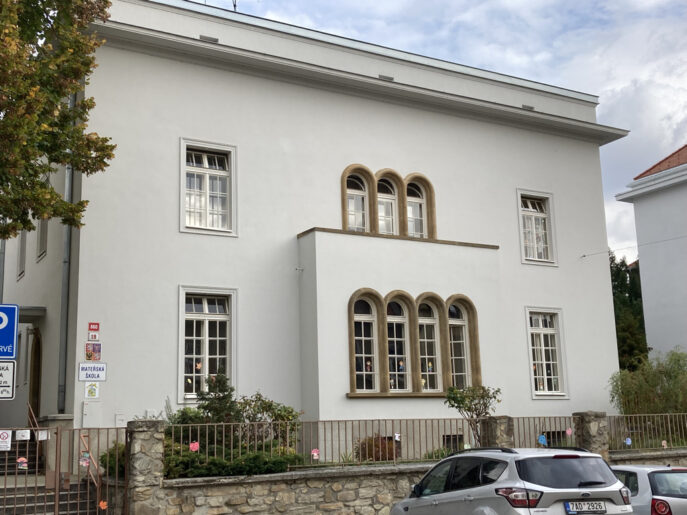 The staff member who met us had copies of interior photographs from a 1928 article in Innen-Dekoration, a German design magazine published in Darmstadt. She helpfully matched the rooms to the photographs as she showed us the house. Here is the link to the full article: https://digi.ub.uni-heidelberg.de/diglit/innendekoration1928/0435/image,info
The interior is largely intact, not so much upstairs, but on the main floor, where the entrance and main public rooms have been well preserved. The house blends clean-lined early 20th century modernism with more traditionally grounded arts-and-crafts elements. Its relatively small main entrance, on the side of the house, contrasts with a large cloak room and an enormous paneled "living hall", still complete with built-in benches and a fireplace.
A formal French salon, with original fabric panels, is also at the front of the house, and it opens to a mahogany paneled dining room, kitchen areas and a gentleman's room at the rear. Large paned windows face an enormous walled garden, now a worn play area, that must have given a beautiful view when it was fully planted.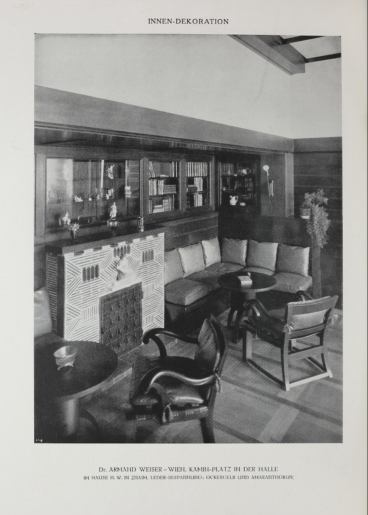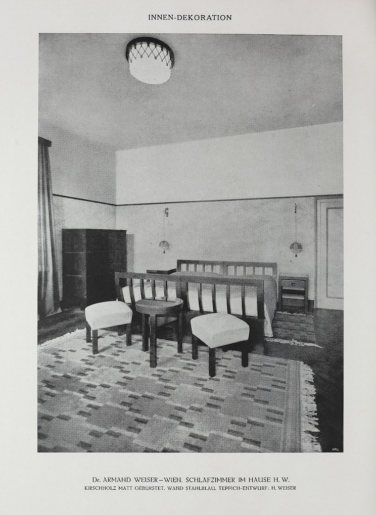 The house is large, not huge; a breakfast room and a stove were at one time located adjacent to the bedrooms upstairs. The taste was sophisticated and up-to-date, reflecting the preferences of many affluent Jewish families. The simplicity of the house's outer form and its clean lines are forward looking. The richly detailed arts-and-craft interiors are more traditional, but through the lens of late 19th and early 20th century design.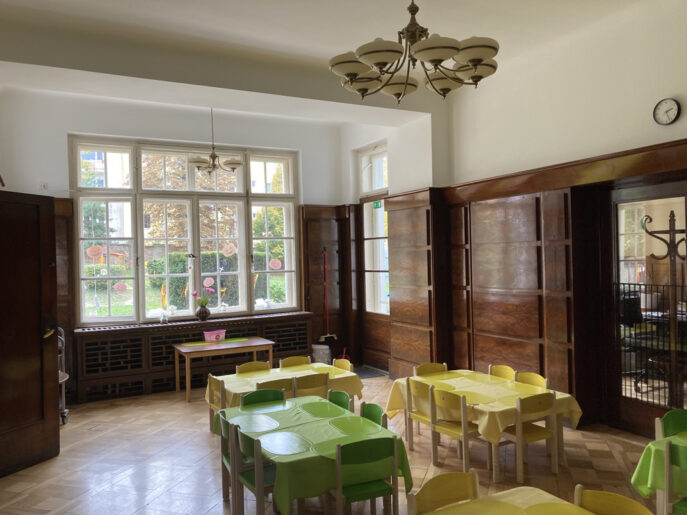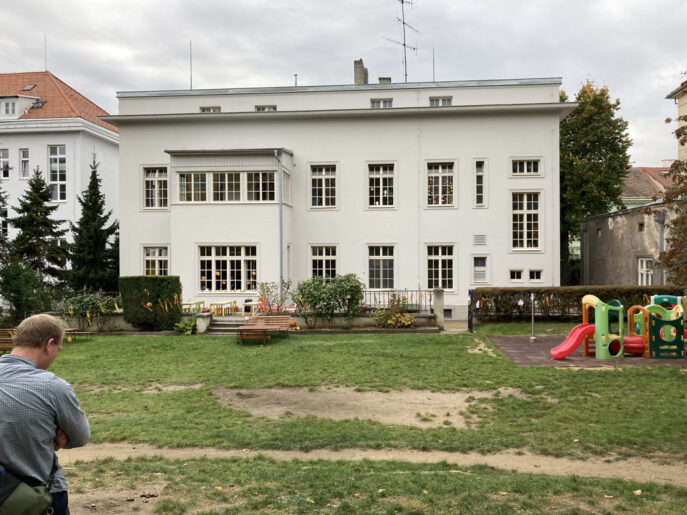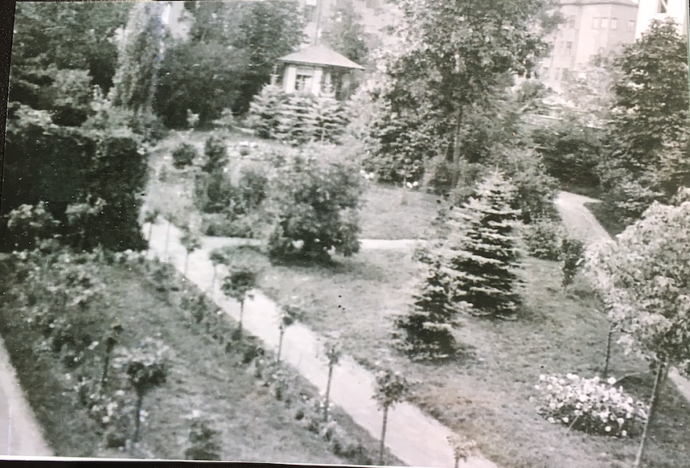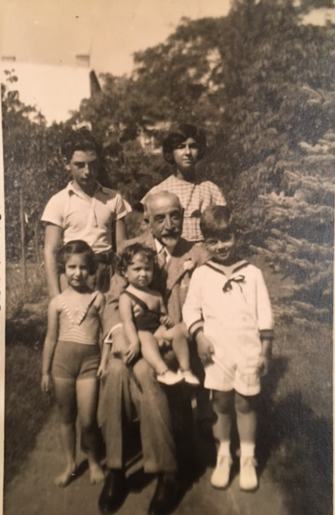 This is a comfortable place, almost understated; it is not modestly middle class, and it does not mimic the aristocratic. The house certainly depended on some level of staffing to operate. The school is evidently proud of the house; its interiors were protected by a former director; the local preservation office came in to give advice; and the woodwork is cleaned and treated once a year; clearly the memory of the house has some importance. Note the front windows, shaped like the tablets of the law, or like the round-arched windows on Moorish Revival synagogues; this subtle reference likely belongs to Norbert Troller.
The Weinberger tannery no longer exists, but following the visit to the house, we crossed the railroad tracks and visited a large factory complex that was formerly owned by the Lilian's maternal family, the Lichtensterns. The old buildings are still there; although they have been extensively remodeled. And the factory still makes sanitary ceramics, toilets, sinks and shower basins, under the company name Laufen, which I see everywhere in Austria, now owned by the Barcelona-based Roca group. The Lichtenstern grandparents' house was on the factory grounds, apparently with a well-tended garden. It is visible on an old print which hangs on the general manager's office wall, but it no longer exists.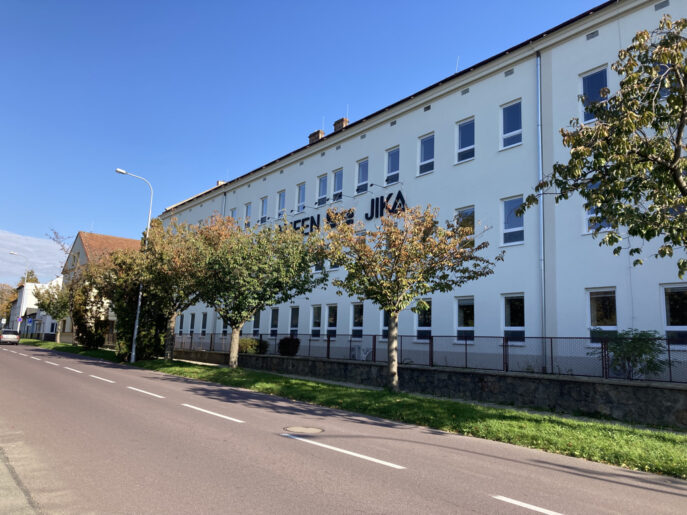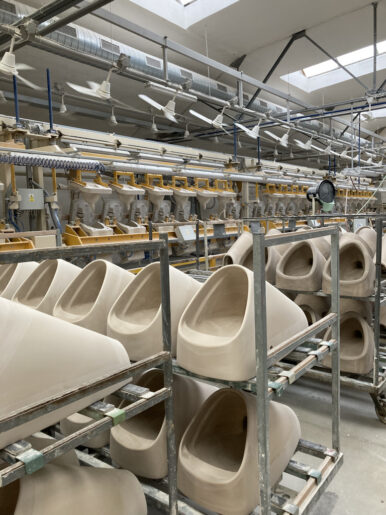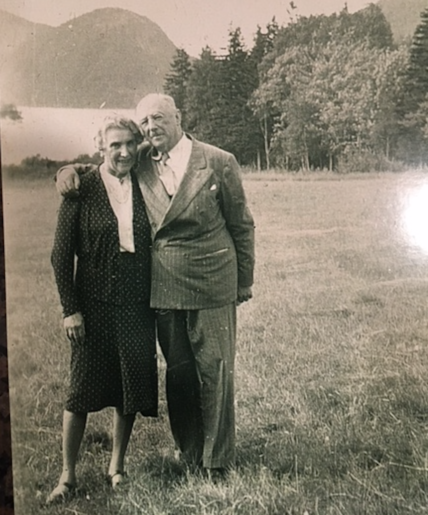 At the factory, I was welcomed to an interesting visit and short-course on sanitary ceramics production, by the smart, energetic general manager, Gabriel Mašek. The earthenware is produced in molds that have a limited life span; the glaze is sprayed-on by hand, although there is also robotics equipment. Earthenware is a natural material, occasionally inconsistent even under controlled conditions. So there is a small loss factor, as not all of the imperfections can be repaired. The Znojmo factory is not the largest in the group, but it produces some of the most specialized work. This is an old place, still forward looking and modern.
At the end of the day, David invited me to an unusual wine bar, with about 85 wines, in an old brewery, not far from my hotel. Tasting is automated. He chose wines from a printed menu, locating each in refrigerator cases by number. We then selected tasting, half glass or full glass portions, and tried a number of them, with a plate of sausage and cheese.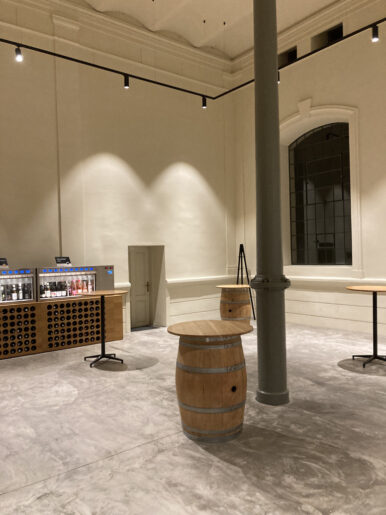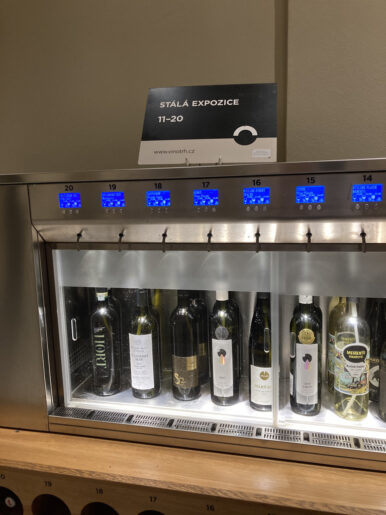 Phylloxera, two world wars, and communism were hard on this old Moravian wine region, although production had become increasingly sophisticated in the late 19th century. Since the fall of communism in 1989, there has again been an increase in education and new vineyards. I am not an expert, but at least two of the 6-7 wines I tasted were extremely good. Here is an article on Moravian wine production that is posted on-line: https://www.europenowjournal.org/2020/11/09/bottle-revolution-the-emerging-importance-of-the-wine-industry-in-south-moravia/
On the second day of my visit, David drove me to the Jewish cemetery a few minutes out of town—that is the "new" one that was founded in the 19th century. The medieval cemetery in town has mostly disappeared. The new cemetery is owned by the Brno Jewish community, as there is no longer a Jewish community in Znojmo. Most of the older stones are missing—sold during the communist era; they may now be paving stones in Prague and other cities.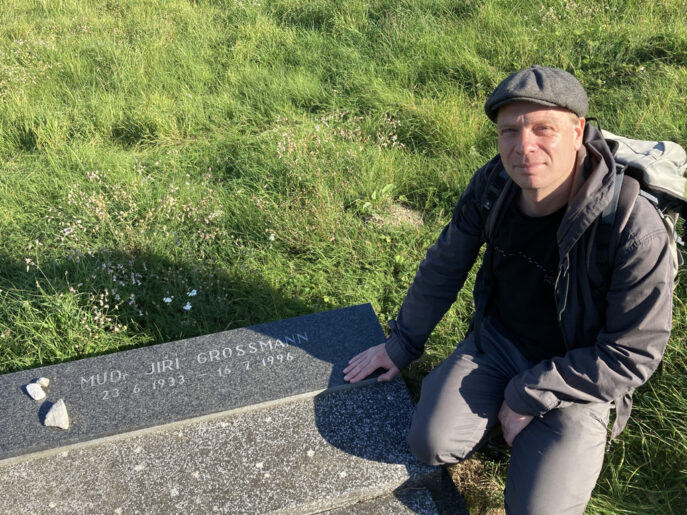 David G. met Lilian at the cemetery in 2001 and then at a luncheon given for her a few years later, an event honoring the placement of brass stumbling stones or Stolpersteine, for her young cousin (pictured above with his grandfather) and an aunt who lived in the Weinberger house next door and disappeared during the War.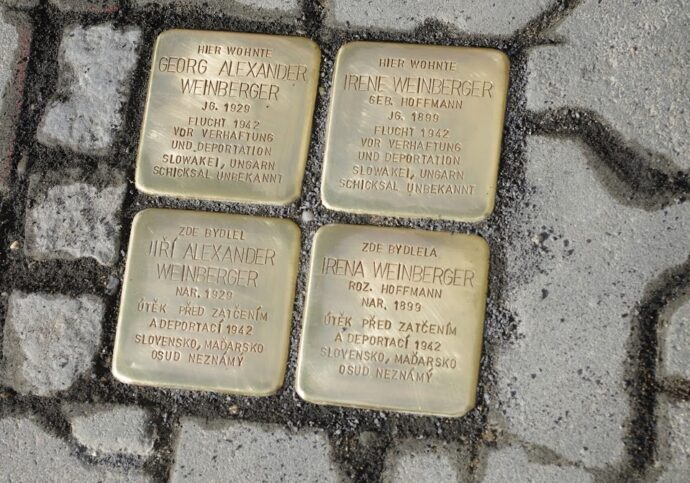 David's family, like Lilian's, got out, just before the outbreak of the War, but returned to Znojmo, where he now lives with his wife and two children. His family was also very accomplished. His great-grandfather, a physician, moved to Znojmo from Bohemia and purchased the 19th century house he had shown me on the town's outer Ring. His grandfather was also a doctor, largely serving the Czech community; his father and his mother were physicians. The family assimilated; neither David's mother nor his wife are Jewish, but his father, grandparents and great-grandparents were, and they are buried in this cemetery.
David and his family now live in the family house, the fourth generation, but as far has he knows, he is now the only self-identified Jew in the town.
October 2022