Last week, I took the train south from Klagenfurt (in south Austria) to Trieste. Reviewing Google maps, I had assumed that the train headed directly south through Slovenia. But history or geography planned a route that skirts Slovenia completely. The first train, running long distance to Venice, entered Italy at approximately Tarvisio. I changed to a local train in Udine that runs southeast to Gorizia, at the Slovenian border, before turning directly south, to the narrow spit of Italian coastal territory along the Adriatic that includes Trieste.
My sister asks if our parents brought us to Trieste in the 1960's, but I do not remember it, and if she is right, we likely drove through it, on our way to Opatija on the Yugoslav coast. My present interest in Trieste comes from its relatively low profile. It is a port, a coffee port, polyglot, with a mixture of Italians and Slovenes and other Balkans. In this region Venice is the big draw for Americans, or sometimes the Croatian coast. Unlike the Austrians who ruled it for centuries, we don't know much about it, and despite many trips to Europe, I too knew nothing.
And so my visit and observation has been in small increments, focusing on what I see and quickly reference on the internet, and now more broadly on my reading. For this, I read an interesting and informative memoir by the Welsh writer, Jan Morris, Trieste and the Meaning of Nowhere, published in 2001.
My arrival in Trieste was at the main train station, where I walked through a modern addition with an impeccable marble and stainless steel bathroom, and then through an impressive, tall, waiting room from the Austrian period. I walked further, all the way to my hotel, in order to see the city. This was difficult, because of my heavy suitcase and the heat, but more so because the first streets were shabby and the handsome buildings ill-kept. But then the walk took me to the impressive Canale Grande, an old docking port that was built into the center of town, and then just a few blocks further to my small hotel.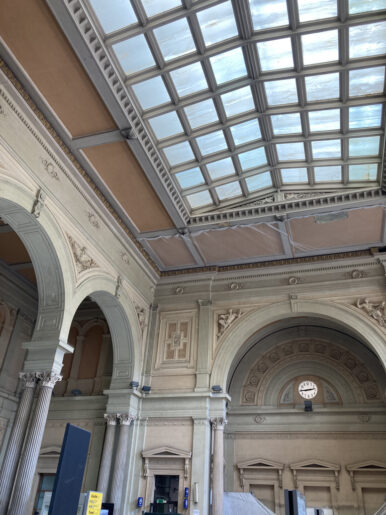 What is it about Trieste that gives it an air of old time romance? Its buildings are not among the most historic in Europe, nor has it been a political capital, although it does have a Roman forum and amphitheatre.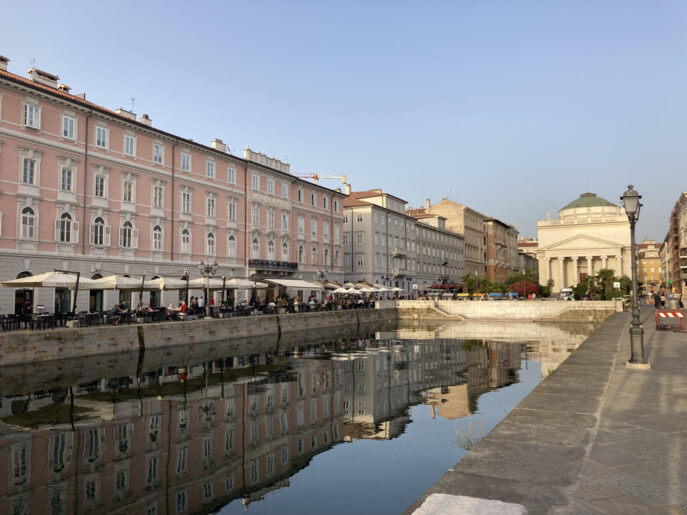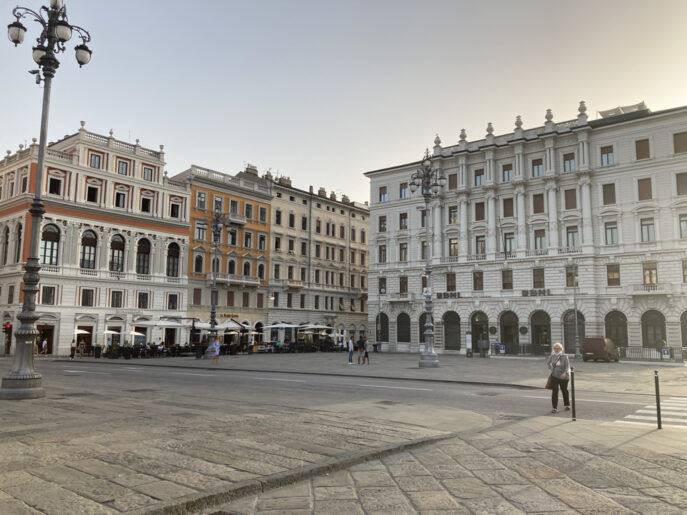 Instead it is the 19th century that dominates Trieste, its past more bourgeois than aristocratic, and that may be the source of its intrigue. 19th century Trieste, that is Austrian Trieste–a port city, with its 4-6 story buildings and original, intact, facades–has been almost entirely preserved. They are colorful and classical, modestly grand, with style and ornament that reference ancient Rome, or Vienna, or occasionally Venice. And the buildings, while not old by European standards, feel old, a bit frozen in time, still useable without having ceded to the present. Collectively they say that Trieste is an active city, but that formerly it was a grand one. Indeed its relative importance, as the main port for the Austrian Empire, declined after it was ceded to Italy at the end of the First World War. And yet, Trieste is an active place, a commercial port, and a gateway city to the Balkans.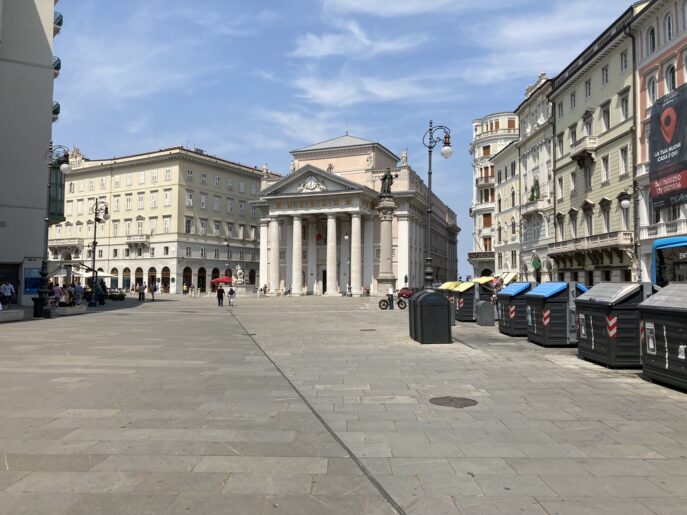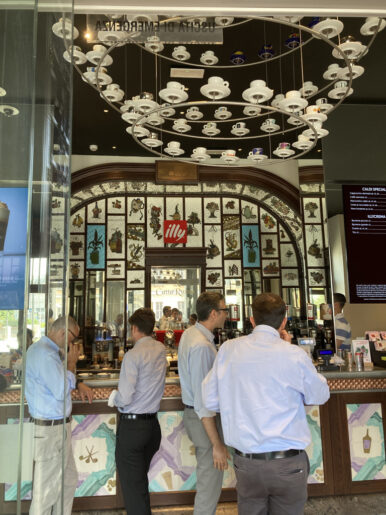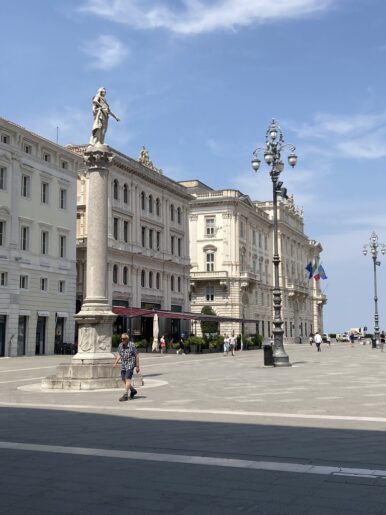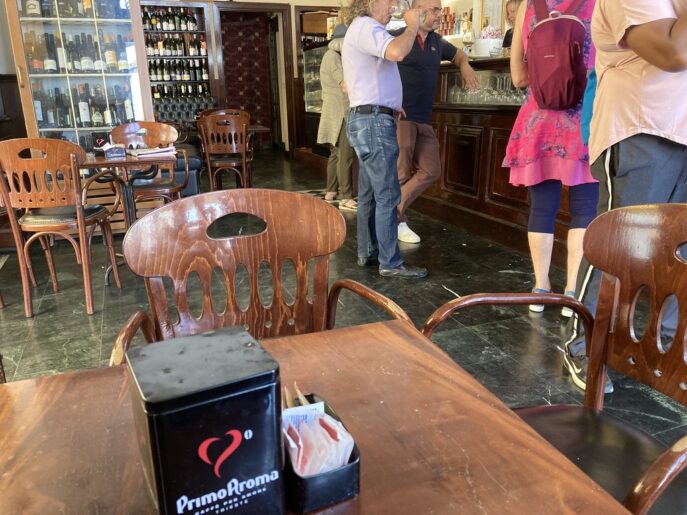 My hotel, Residenza le 6A, is in an old apartment building. It is really a pensione with just six rented rooms and a few short term rental units, on a stone-paved pedestrian street that terminates with a shopping street at one end and a white marble side of the classical church Sant'Antonio Nuovo, at the other. In the pavement, in front of the large double entrance door, are four brass plaques, or "stumbling stones" for members of the Goldschmied family who were deported from here in the early 1940's. I was struck how this history had followed me from Vienna, where a few months ago, I stood at the doorway through which my grandmother's older sister had also been deported.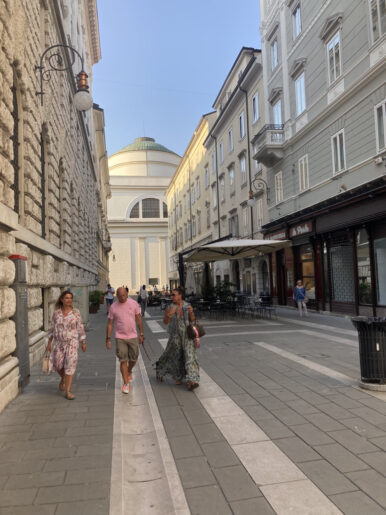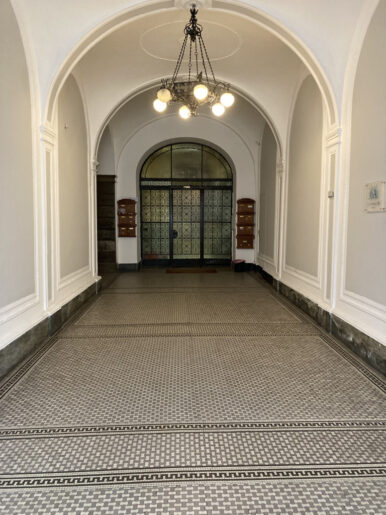 Behind the doors, the entry hall is mammoth, with a tiled floor, huge glass and wrought iron doors at the rear, faded switches that add a few minutes of light, and a substantial stone staircase and tiny elevator to a large entry landing with two large pedimented double-doors and more switches.  And then inside the pensione, dim, quiet, music, comfortable furniture, a breakfast area, and a reception desk, occupied in the morning by a very helpful Andrea.  My room faces over the street, also quiet, with two new sets of windows, tall ceilings, an armoire, a side chair, a built in desk, air-conditioning, and a modern bathroom.  And this is where I am writing.    
On my second full day here, I took a public bus (6 or 36, across from the main train station) to Castello Miramare, perhaps the most visited site in Trieste. Like the city, it was built in the mid-19th century by Maximilian, a younger brother of the Austrian emperor, who was briefly the emperor of Mexico before his execution by "rebels". It is pure gothic revival on the outside, more like an important English country house than a castle. Inside it is opulent and eclectic reflecting both its time and its attachment to the further past. It is grand, with an enfilade of gorgeous but not terribly private rooms, endless portraits of kings and Hapsburg family members and ancestors; there is even a grand bed of state—all a reminder of the authority and importance of the owner. The placement of the house at the edge of the Adriatic, the marble walk around it, the terraced garden, the bathing steps into the sea; these are the real inspirations and the beauty of this place.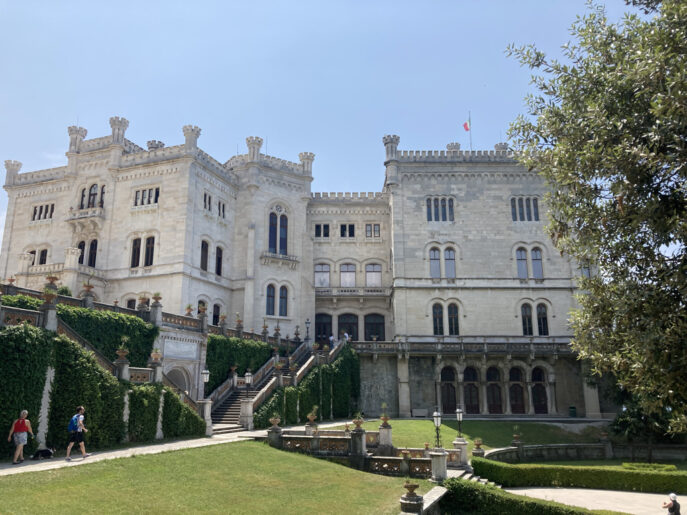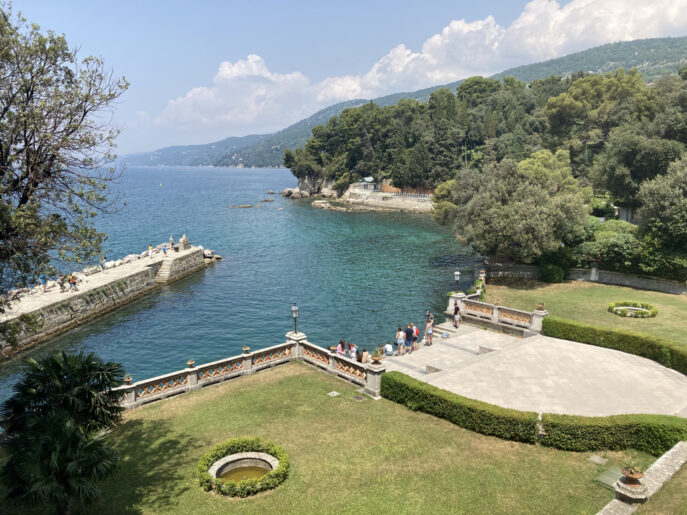 Walking back to the bus, along a more plebian but living ocean front, I had lunch at a private beach club in its café overlooking the sea, then walked further along the shoreline, past sunbathers and some swimmers. A younger man, muscled and wet from the water, climbed on a bicycle in front of me, wearing only a small bathing suit and backpack, and pedaled barefoot a bit further down the shore to a public shower. A young woman, also shirtless and with smallish breasts, lay back on a towel along the walk. Everyone seemed at ease, their movement effortless and un-self-conscious.
On my way to the bus station, I had seen a small pastry and chocolate shop. So I stopped at Bomboniera on the way back to the hotel. The shop dates to the early 19th century, ornate, and high-ceilinged, with tall, carved display cases and a crystal chandelier. My strudel was a rolled nut cake with apricot jam, served on a "silver" tray with the coffee and a small glass of hot chocolate. The cake was better than what I find at most of the shops in Vienna. There are a few indoor seats, and then outside, tables in the middle of the pedestrian street. I saw this everywhere—pedestrian streets centered by café and restaurant tables. Frequently these places are busy, and while there are many visitors, most of the patrons sound local.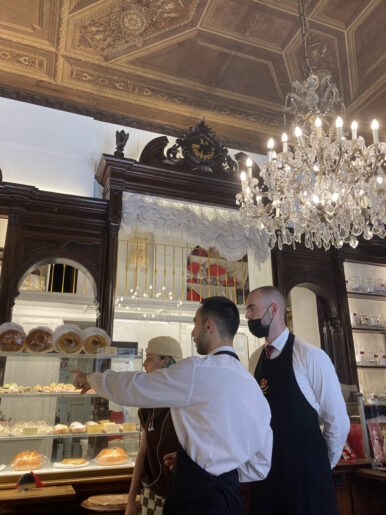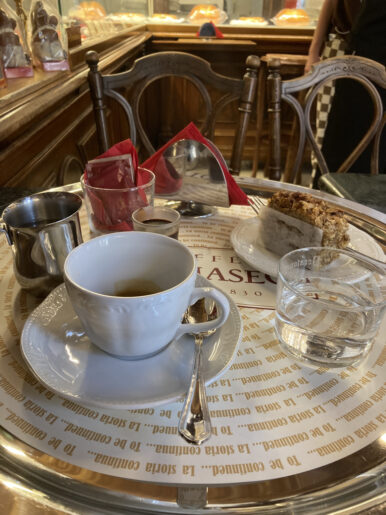 The hills in Trieste are older and quieter than the commercial city. The original city, the forum, the Roman amphitheater, the old city walls and the city's cathedral are on a hill. So too are many 19th century buildings, and more meandering and some narrower streets, a contrast to the rational grid below, and some small café's and restaurants. Also high up are some modern buildings, often depressing due to their lesser quality and maintenance, and some old 19th century mansions, indicating perhaps that portions of these hills were formerly bucolic and more desirable. As it is they are residential, quieter, and greener, with some flights of steps and small parks.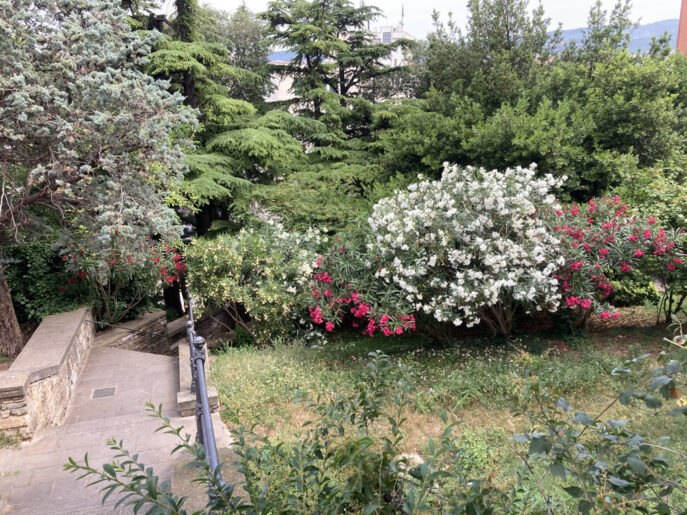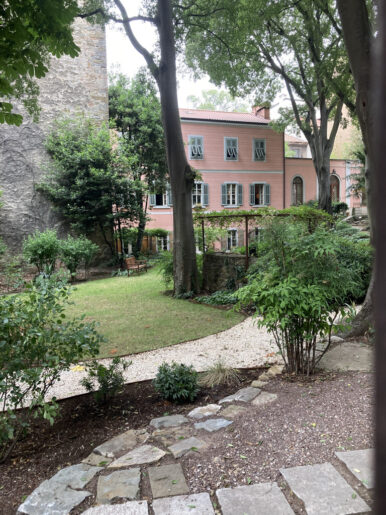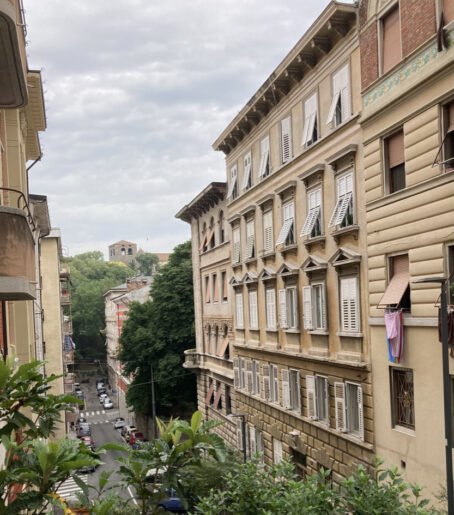 What may be the grandest mansion in Trieste is in a 19th century enclave near the port. Now the Museo Revoltella (Via Armando Diaz 27), the house was built for Pasquale Revoltella, a self-made importer, investor, and a significant backer of the construction of the Suez Canal. He was enobled by the Austrian emperor and left his wealth and the house to the city. The house, designed by a German-Jewish-to-Lutheran architect, George Hitzig, was converted into a museum in 1872, with its art collection and furniture intact. It is opulent, huge in scale, even larger due to its combination with an adjacent house. The permanent art collection and the furniture are impressive but arguably not extremely significant. However, the temporary exhibition was extraordinary, a collection of Impressionist paintings of Normandy, including two Monets. (Here is the link, https://museorevoltella.it/monet-e-gli-impressionisti-in-normandia/ ). I am rarely able to look at art of this quality without looking past or through other people. Here I was almost alone in the exhibition rooms and in the main house, a rare pleasure while traveling.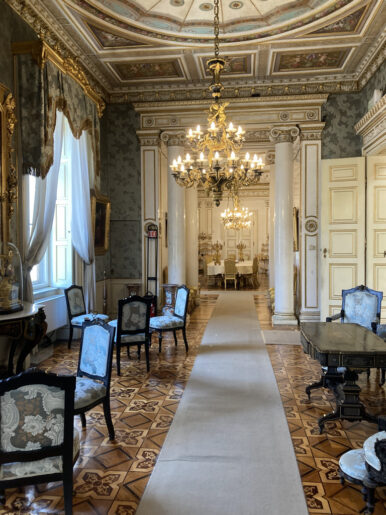 There were even fewer visitors at the Museum of Antiquity, J.J. Winckelmann (via della Cattredrale, 15) , named after a well-known German art historian and archeologist, who was murdered in Trieste in 1768, likely in a fit of anti-homosexual rage. The museum is also in a 19th century house. It and its institutional improvements are gently aging, but it has a large walled garden, sprinkled with antiquities, and inside, an excellent and accessible collection of ancient stone heads, busts and pottery. In the garden, and on the steps leading up the hill to the Cathedral, is a small temple, with inside, a monument to the archeologist.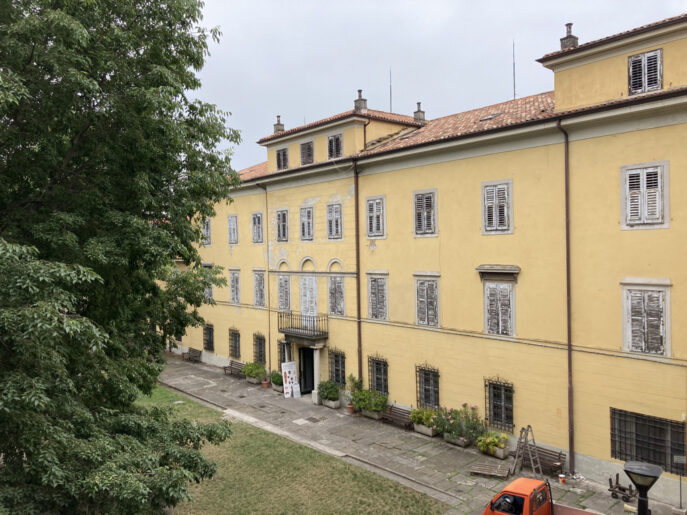 I have eaten in various restaurants and cafés in Trieste, and generally, the food is more Italian than Viennese, and it is good. Eataly has a very attractive building on the port, much less crowded than the one in New York, and its restaurant has a gorgeous view, but it was closed for dinner when I went. Instead, anticipating a splurge, I stopped at Harry's, which sits prominently on the Piazza dell'Unita d'Italia, linked with the five star Grand Hotel Duchi D'Aosta. I typically avoid places like this, but I was in a mood, and I'm writing, so I stopped first for a local white wine served with chips, nuts and olives and then moved across the terrace for a second glass of wine, pasta, and coffee. The service was friendly and elegant. Some, not all of the patrons, were very privileged Americans. The pasta was filling and very good; the bill was 40 euros.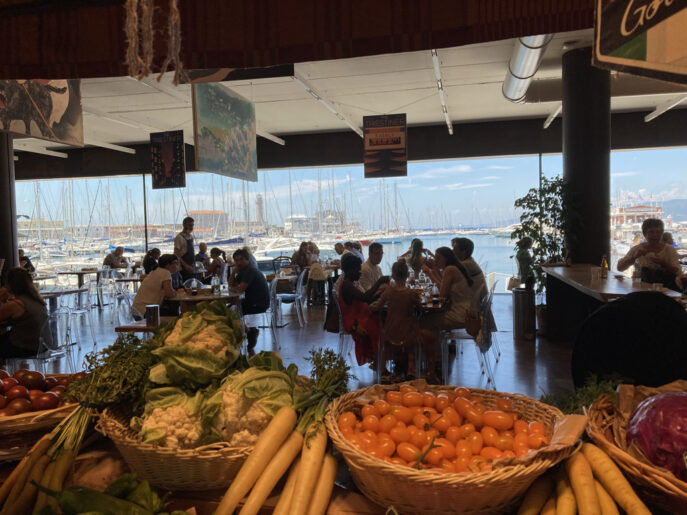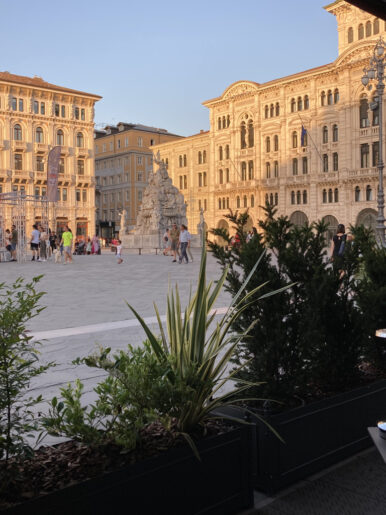 On the morning before I left Trieste, I visited the Museum of the Jewish Community of Trieste at via del Monte 5/7, just a few blocks from my hotel. The museum is in a building that it shares with apartments (like my hotel), but it was formerly a Jewish hospital and later a refugee center and way-station for Jews fleeing central Europe for Palestine, the United States, or elsewhere. During the 1930's the Jewish community helped others fleeing the Nazis, unaware that its members would also, eventually, need to be saved.
I was the only visitor, as the main synagogue is the more frequent draw, and learned that the Jewish community in Trieste now numbers only about 300 in a regional Jewish population of about 500. This small group is much reduced from its pre-World War II numbers (about 6,000 in 1938 per Wikipedia), but it nevertheless maintains a cemetery, the museum and a large neo-Moorish synagogue that was opened in 1912. The detailed and extensive exhibition focuses on the history of the community and its cultural contribution. Afterwards, I downloaded and am now reading Zeno's Conscience by Italo Svevo. I was told that he is required reading in Italian literature classes, although his fame was initially due to the support of James Joyce and French literary circles.
It has been very hot in Trieste the past couple of days. It is a late June afternoon, at 5 o'clock, at 91 degrees Fahrenheit (32.8 degrees Celsius), and I am hiding in my hotel room. I have seen enough on this trip and need to write down my admiration for this city's manageable scale and frequent beauty. Next time, I'll combine a visit with a ferry to the Croatian coast. Tomorrow, I am on nine-hour train back to Vienna. The first class ticket was for a small premium—well worth it for a long, but hopefully relaxing trip.
Trieste, June 27, 2022