I started this story yesterday and then lost the draft, so I have started it again, and I need to make hay of it. . . .
My sister is a something of a hero; she is stable, thoughtful, considerate. . . accomplished, and her life is about more than herself. She is an academic and an independent woman, the ideal daughter of our parents. She could be no one else's daughter. Yet she is unlike either of them.
So I've written a brief story about her. A story about who she is and how she became that way. I have written it as a fiction, because my sister also represents other women whom I know, and while my goal is to describe her, I do not want to be constrained by accuracy or by the realities of what may actually occur. And since this is a short essay, I'd like to focus it on her most important relationship, which is that with her daughter.
For while my sister is her mother's daughter, she is also her daughter's mother. She has brought into her adult life the values and encouragement of her parents, but she is decidedly unlike her mother; nor did she want her mother's life. She deliberately raised her daughter differently than she was raised. Only her daughter's occasional unhappiness ruffles her generally calm composure, and yet there is something very familiar about my sister as a mother. And that is the intensity of her love and commitment. Never, as a child in our parents' home, was there was anything more important than the children—not until we had moved out. In this, my sister is very much her mother.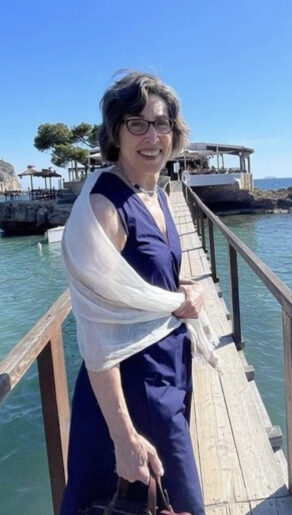 —————–
My sister, whom I'll call Charla, lives in a solid, brick, Victorian house on one of those straight streets you see in Toronto or in smaller Ontario towns. This one is London, or as we call it "little London", a small 19th century city with an established business community and a large public university where both my sister and her husband teach.
Charla was not raised in London. She is an American, a California girl, born in San Jose in the mid-1950's. She doesn't fit any California stereotype, and yet she is west coast, in a careful way that retains a low-key informality, and a relaxed, pacific, American accent. She is slim and physically fit, well-dressed but informal, with something original in her choices. Charla moved to London for a man; not her husband, but the earlier one, the one she met as a young professor at Stanford—the one who didn't work out and no longer matters.
She is a professional woman, an academic, a social scientist, speaking Mandarin and analyzing regressions. As a child in Asia, she was stared at by those unused to seeing "Europeans". As a young woman, she was also used to being watched, one of the rare westerners in Chinese villages, speaking with farmers, collecting and analyzing data on household production. Now she is a senior professor, with a long list of publications, a significant China economics prize, a network of colleagues, and ongoing research projects. She is the kind of woman who thinks carefully and does her homework; the kind whose sexuality and professional opinions are careful and discrete, so as not to ruffle her mostly-male colleagues; the kind of sister who studies the menu before ordering.
Today, she is cleaning up, focusing first on the kitchen and then moving into the double living room and the dining room. The cleaning service comes just once or twice a month, and Charla's husband (and daughter) have never been particularly conscious about where they leave things. But Charla prefers order, and she is cleaning up for her daughter, Thea, now 28 and due home later this afternoon from London, that is the "big" London in Great Britain.
Thea is an actress, an artist, and a writer, and she is free in a way that my sister has never been. Charla saw her daughter's unusual character and encouraged it, unlike her own glamorous mother, who loved her, but insisted on rules and discipline, on prescribed social behavior, on control, and whose decisions were rarely negotiable.
Charla's mother was of another generation; she had a different life, one that could never let go entirely of the horrible things she saw in Europe. She wanted her children to stand out, but not too obviously; she wanted them to adapt and get along in many different circumstances. She wanted them to move forward, but she also wanted them to be safe. Charla's mother was influenced early by the women's movement. She went back to work and paid for two expensive college educations. She insisted that her husband make some changes around the house, but not too many changes. She took it as far as she could. For her daughter she wanted more; she wanted independence. "You can have a man but not need one.", she said.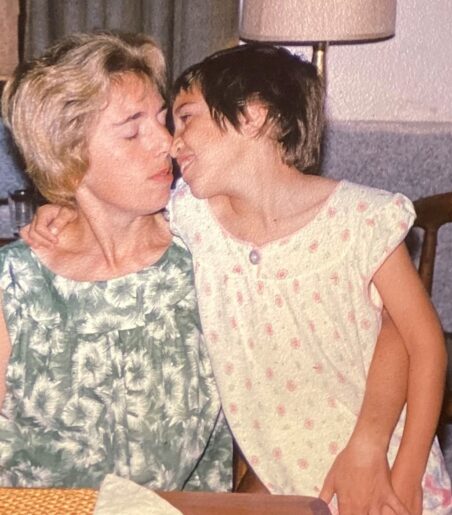 And so Charla did. Her husband makes some traditionalist noises, but not much more than that. He is articulate and Canadian, that is low key; he does his own thing and leaves the women in his family to do theirs. As a child, Thea was blond and gorgeous, outspoken and unafraid, or so it seemed. Her grandmother's fears were not even a distant memory, and her mother, unlike her grandmother, was unwilling and unable to be an absolutist.
Thea was verbal and intelligent, and she preferred to show her real feelings, even as she strove to fit into the largely working-class city around her. She gravitated to other girls, and makeup and clothes and femininity, initially to those glamorous and slim, blond and brunette girls who get a lot of attention in smaller north American towns, but she had a brashness and originality that eventually led her to a more eclectic group of creative kids in her high school years. Thea enjoys attention, more so than either of her parents, but she adores her friends and is perfectly happy to turn her attention elsewhere. She has an associative intellect, unlike the more linear mind of my sister; and so her parents guided and encouraged her inclinations, leading to an arts-based education and eventually to training as an actress in an English university.
Thea is coming home this afternoon with a man–not the first young man that my niece has dated, nor the first that they have met, since Thea hides nothing from her parents. But this man sounds serious, at least Thea says he is. He is a tall, slim, Anglo-American, who was born in England and mostly raised in the western United States. He too is an actor, and like Thea a very good one.
Charla's daughter is now a young woman, still blond and beautiful with what in previous generations might have been called an English complexion, so well-shaped that one does not immediately notice that she is tiny. Her features have some tinge of our Jewish family familiar, but physically she is more clearly a re-incarnation of her beloved paternal grandmother. With all this, she has constituted an exquisite, glamorous young woman, who carries herself carefully, but with a certain freedom, aware that she is attractive—she is certainly not a prude–but not too much so. She can be timid, but she is more notably out-going and outspoken, with strong opinions, unwilling to tolerate any injustice, a bit brash, even a little loud, in contrast to her exquisite, small person. She loves her many, many, sometimes unconventional and well-chosen clothes. In her style and her presence, her fusion of glamour and strength, her occasional vulnerability, she reminds my sister of her own mother. "I'm raising my mother." my sister has said.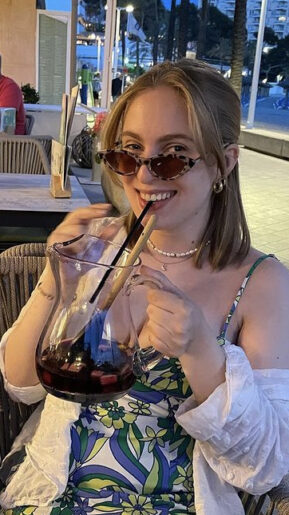 And like her grandmother she is, intensely proud of the Jewishness she has inherited from her, of her refugee origins and her grandfather's commitment to social justice. Like her mother (and her uncle) she was raised with everyone, in a primarily Christian world where Jews are a tiny minority. Her assimilation is innate, in her closeness to her father and his very large Ontario-Canadian family. Yet in her Jewishness she is linked to her mother, to her grandmother, and to the oppressed. She is not so familiar with ethnic Judaism as we know it in New York, or even in Los Angeles, but in little London she was introduced to antisemitism much earlier than her northern California mother. She has educated herself about the tribe she was not raised with, through summer camp, through some of her friends, through the mediums of film and theater, and through her script writing, and she has committed herself to it.
The outline of this visit home will not be unusual in its outward forms. There will be breakfasts and dinners, walks in the park along the Thames River, visits to the covered market downtown. There will be long conversations, and I, the uncle, as always, will be very far away, getting my telephone reports afterwards from my sister.
Of course Charla is aware of all of this, but this afternoon she is focused on the present, on the joy of seeing her daughter, her preparations at home and the anticipation of meeting the young man she has heard about.
For Thea this man is important, and so is her parents' reaction to him. There is a little stress, as she cannot imagine forgoing the love of any of them. This young man is not like anyone in her family. He is tall; he is boyish, he is seemingly relaxed, attentive, auburn, creative, strong. He is distinctly non-Jewish, or so it appears. She doesn't idolize him; he can be so annoying; he isn't always listening, and he doesn't always give in to what she wants. And yet she does.
She has been seeing him for about a year. Although this is fiction, I'm not sure I want to give this man a name. The purpose of this story is not only to invent but also to observe a reality, that is an eventuality, in my sister's life. This is that her daughter will bring home a man who is delightful, but who may be foreign. Someone that my sister, who listens to everyone, and has met everyone, will have to work a bit to understand. Someone who is not like Charla's father, a bit more like her husband, but much younger, less formed, and therefore less clear to her. There may be nothing wrong with this young man, but she has limited experience with this kind of person, and if this is serious, she wants to be convinced.
Thea and her beau are scheduled to arrive at about noon in Toronto, and then after a two-hour layover, sometime after three at home in little London. Thea's arrival is never anti-climactic. It is with a rush of feeling and happiness, an enthusiasm that reaches out to her parents, to her friends and even to her room. It is high-octane and genuinely happy, suited to a girl who is loved by her parents and loves them back, and to Thea's enthusiastic love of the family dog. The dog's primo is Charla, but when Thea visits, he often sleeps in her bed.
On this trip Thea is not alone, and what matters to Charla is what she observes in this young couple, in this young man. Would he be a reliable husband to her daughter; can he handle her outgoing ways, her vulnerability; is he strong enough; does he have his own life and his own way forward; does he love her? Has he even asked her? Clearly he adores her, but Charla chose appreciation not adoration, which she distrusts. Her father adored her mother consistently for fifty-five years, but he could not always see her. But Thea is a young woman who wants to be loved and adored, and so reclaims some of the traditional interaction of male-to-female relationships, because she has the freedom to do so. She is not threatened by it. She can need and have a man.
And this one is truly pleasant to look at, tall and with the boyish good looks that are my niece's preference. Friendly, just a little shy, which is appropriate when first meeting a woman's parents. Smart and reasonably articulate, although not in the manner of my sister's colleagues, and he doesn't talk too much, leaving Thea plenty of room to assert herself. He is successful, in his way, with some good theater parts in his resumé, and a willingness to fill-in financially with voice-over and restaurant work—he trained as a sommelier.
But need she marry another actor, and is he reliable? So many young men walk away as the adoration fades, from the responsibility of children. Charla's husband needs space, but she can count on him. He certainly pulled weight when Thea was a child, and Charla was working for weeks or months in China. And Charla's father was reliable and a protector. Her mother was free to take on whatever challenge she did or did not want, knowing that her husband would always be there.
Yes, money does matter, particularly when there are children.  Thea is an actress, a good one.  She is doing well in London, but acting does not provide a regular income, unless the actor is extremely successful.  Charla and her husband have been good with savings, but there is only so much of it.  Must Thea choose another actor?  Why not a guy with a stable job, who will reliably be at home while she is working?  Will this all work?   And this young man—does he measure up to Charla's two men?  My niece wants children, not one or two, but three or four, so it matters. But Charla is not one to readily misjudge, and how can she tell? 
The young man is a good guest. He takes their luggage up to Thea's room ; he is willing to talk and offers to help while meals are being made; he helps clear the table. He is friendly and chatty, certainly about cultural things, and he answers questions, without revealing too much about himself. Thea says he's a bit shy. But his parents, what are they like? Our own grandfather was an alcoholic and a failure; our father the most reliable man she ever met. . . so does it matter? Charla likes this guy, not overwhelmingly, but he is easy to get along with. And does liking him really matter, if her daughter is happy with him? Her husband grouses a bit at night, after they have gone to bed, but he would have a critical eye on any man whom his daughter brought home, and she sees that he has enjoyed talking to this one.
And so without a firm basis for knowing, Charla cannot yet exercise instinct; she's just not able to. So she decides to put her opinions on hold. Her job, at this point, is to enjoy her daughter's visit, to have a good time, to get to know this young man in case this seriousness persists.
And so for a wonderful week, she enjoys the long conversations at breakfast, or while walking the dog, the visits to her mother-in-law and from her brothers-in-law and their wives, visits from a few of Thea's cousins who are around. They spend a day in Toronto, to hear a concert and to have lunch. She leaves the young couple their time alone, to explore London or to visit close high school friends. Parenting is no longer a full time job, not even part time. The thoughts are still there, but the effort can and must go to other things. Charla and her husband are retired now. She has her research and her reading, an occasional teaching or consulting gig abroad; he has his art, an occasional exhibition, and his interest in other people's work. Someday, perhaps, they will be grandparents and then will step up again and help, assuming that Thea doesn't wait too long.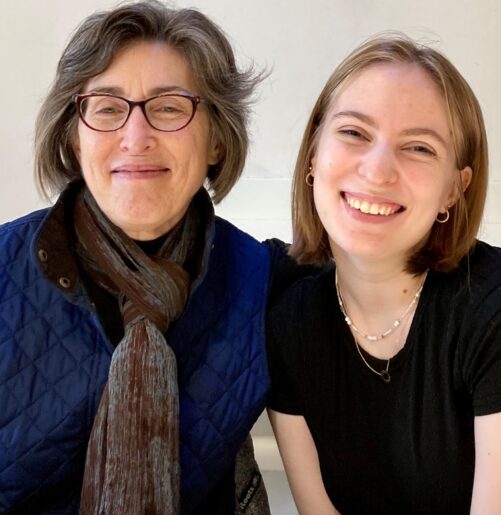 So she'll encourage Thea to wait a little, not too long, enough to have some ups and downs before committing to marriage, certainly to children. And she won't attempt to control it. She doesn't need to. It isn't her decision; this is her daughter's life. She'll suffer if her daughter is unhappy, but that comes with the territory. Her job is to help her daughter be free, to be herself, to shine and do good in the world, to make her own mistakes. This is what her own freedom, her independence, has allowed her to do. She raised and helped her daughter as best she could; but she cannot control the backward or forward of it.
Vienna, Austria, June 2022