Aunt Dora, our grandmother's sister, is someone we never knew. We did not know her because she was unable to get out of Austria.
While preparing our Austrian citizenship applications, our lawyers hired an archivist to document evidence that our family were victims of Nazi persecution. The archivist discovered that Aunt Dora was deported in 1941. The archivist also found her name in the Yad Vashem Holocaust database in Jerusalem. Without our asking, her name was added to the wall of names at the new Holocaust Memorial in Vienna, dedicated a few months ago.
Why does Aunt Dora matter? She has been dead for decades, and she we was never part of my life. But she should have been. She was divorced and re-married, without children of her own. For a number of years she lived in our grandparents' building in Vienna's Ottakring district, and she worked with them. She knew her niece (my mother) and her nephews.
She was relatively young when she died, about 46. I too am single and an uncle. Won't I meet my niece's children?
I never really thought about her, but now I see that because she was taken, it was important that she be forgotten. And now that I am in Vienna, reconciliation with the past means that I want to know something about her, even if it is very little. This although the events that took her away were those that created me.
So let me write what I do know. I have posted this photograph before, but with an eye to my great-grandfather and to my grandmother on the right. The dark-haired woman on the left is Aunt Dora.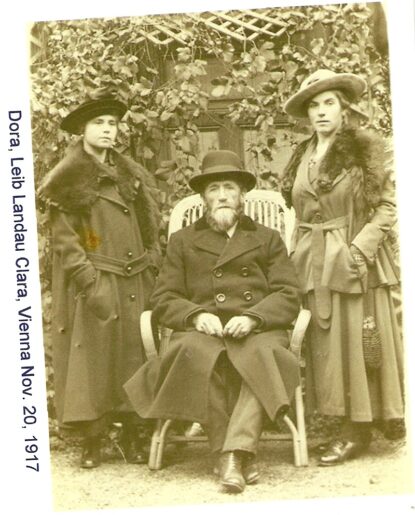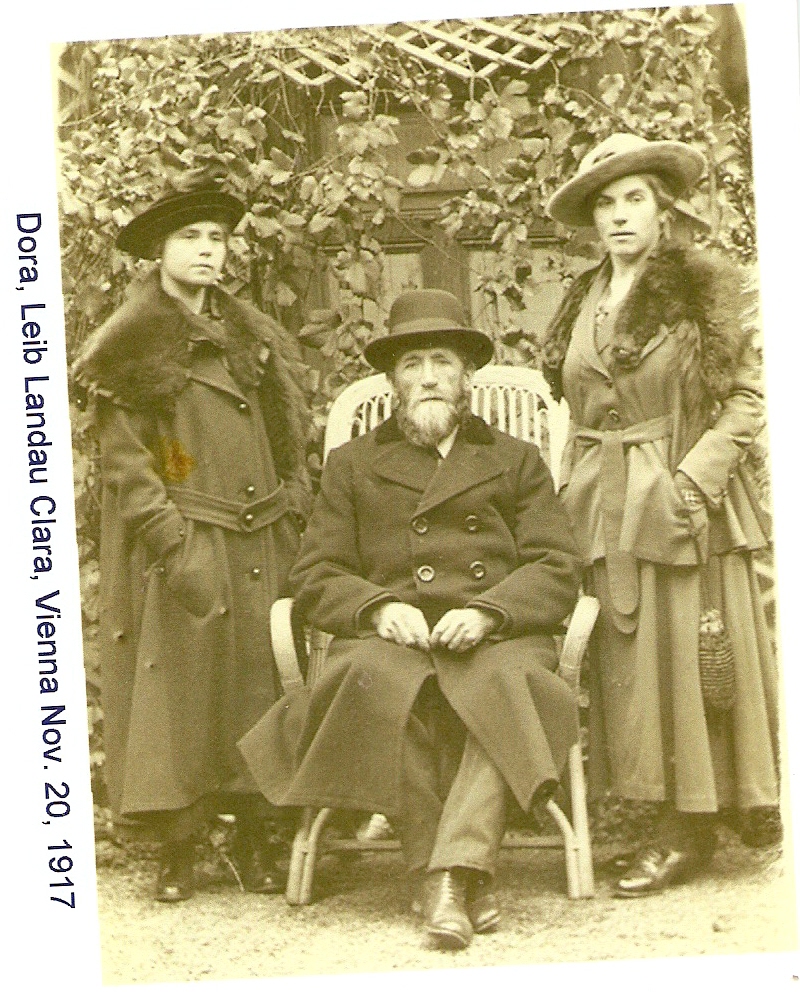 My mother, Alice (born 1928), had two brothers. The older uncle George (born in 1922) wrote several entries about Dora in a memoir:
"Her [his mother, Clara's] father had been a farmer in Galicia, then a part of the Austria-Hungary Empire. At the start of World War I, he sold his farm and parents and daughters moved to Vienna. Her older sister [Dora] soon married, her younger sister was sent to a girl's home in Slovakia, and Clara went to one in Vienna, diligently learning the trade of sheitel maker."
According to the archivist's research, Dora was born in Tysminiza-Stanislau on May 10, 1895. She married Zalel Diamant in 1920 and divorced him in 1921.
My younger uncle, Jack (born 1924), wrote this about Vienna:
"Wagons drawn by horses were fun. You jumped on the back of the wagon until the driver saw you and chased you off. One day on such a ride, the driver snapped his whip and caught my new coat before I could jump off. It made a slit in my coat. How was I going to explain this one. Well I had my favorite aunt living in the same building as I did. She took me to a tailor who was able to fix it so you could not see the damage. After this I only jumped on closed wagons that had a platform in the back and the driver could not see me. . . . "
My cousin Elliot sent me this a year or two ago. Uncle Jack was a charming writer, and he should be given credit, as he spoke only German until he was 15.
But George wrote much more, and he had a remarkable, almost photographic, memory:
His parents met when his mother made a new wig, or sheitel, for his paternal grandmother. My grandfather, at the time, was a widower with, two young boys:
"To take care of us children he hired a young farm girl. He stayed a widower for almost two years until he met Clara Landau, the wig maker, who then decided to act as a matchmaker.
Clara's older sister [Dora] had been divorced and was childless. A chance for the sister to marry the widower was in the making. But my father decided to woo the young, beautiful, blond virgin rather than the older divorcee. They were wed in March of 1926, and I now had a new mother. Every place I went with her I always introduced her as my "New Mother".
"Once when we had my aunts (my new mother's sisters) visiting, we all sat around in the veranda. Because some funny stories were being told, I just had to butt in with a story myself.
I remember it was something about meeting a bear and fighting that bear with a stick and driving him off. I was really proud of myself, but without my noticing it, my Aunt Dora left the room, picked up a bearskin rug from my parents' bedroom and crept into the veranda on her hands and knees. I remember screaming and running to hide in back of somebody. My aunt stood up, and dropping the rug, wanted to know where the brave little boy was now. I cried inconsolably for quite a while; I don't know whether it was because I was so frightened or because I had been shown up about that made-up story. "
At some point, in the late 1920's or early 1930's, a portion of the rear of George's parents' courtyard building was converted into an apartment for his new grandparents and their oldest and younger daughters. Aunt Dora helped in the restaurant that his parents opened on the ground floor. (They later bought and operated a larger Gasthaus, a 7 Hell Gasse, four blocks away.)
George also described going to the Danube beach to play, with his Mother and Aunt Dora. The women sat on blankets with the baby, my mother, while the boys ran around, sometimes on top of the levees or playing balls. It was Aunt Dora who went after them when they went too far. And then again, "One summer, when I was eight years old, we actually went to the country. . . My father had made arrangements for the family to stay on a farm on the outskirts of Vienna for a month. Alice was still very young and our Aunt Dora came along to help take care of her because by this time we no longer had a hired maid/nanny. . . When my Aunt Dora saw a cockroach (they were about one-and-a-half inches long there) running over the table, she had to run outside to vomit, but we stayed there anyway. . . "
During another summer, "When Jack came home from camp, I went with my Aunt Dora to pick him up where the bus dropped everybody off. He came back with only the clothing on his back and one pair of dirty underwear in his backpack. We attempted to complain to the person in charge when he was checked off to go home, but were brushed aside."
Then, ". . my Aunt Dora went to pick up Alice from school, as she usually did. (She also always took Alice to school in the morning. She had done this since Alice started school.) When the girls in Alice's class lined up and started down the stairs from their classroom, Alice was pushed and she fell down the whole flight of stairs. Luckily, she didn't seem to be hurt too badly and Aunt Dora consoled her and brought her to the Gasthaus."
Dress clothes were made at the tailor, generally for Passover or the High Holidays. "But Aunt Salka [the younger sister] or Aunt Dora most always sewed our shirts and underwear."
And then more seriously, my uncle's description of a visit from the Nazi stormtroopers:
"Juden, macht auf!" "Juden macht auf!" Heavy fists were banging on our door.
I put my forefinger over my lips for everyone to be quiet and motioned to them to go into the kitchen. What should we do? Thoughts were racing through my mind. What will happen if we opened up? What if we played that nobody was home? Would they go away? Was our fate now thrust into my 15 ½ years old hands?
More banging and "Juden macht auf!" "Juden macht auf!"
What if we went into our parents' bedroom and hid under the bed? What if the door finally gave away and they came in and found us? What if we went from the kitchen into the veranda and from there into an attic of an adjoining building and hid there? Could we do it without making any noise? What if they found us anyway? Would it be better if we opened up?
"Juden macht auf!" "Juden macht auf!"
The door to our apartment was a double door. The stationary side was bolted to the transom on top and to the floor on the bottom. The floor bolt seemed to hold; the top bolt started to splinter the transom bottom but the lock in the center still held. I looked into the dark kitchen. My sister, turned ten in the middle of March, was cowering terrified in the corner behind a credenza. My fourteen-year-old brother was next to her on the floor. I can still visualize the terror in his eyes. My aunt was on the floor next to them, slowly stroking their heads trying to keep them calm. If we were quiet, maybe they would go away." The stormtroopers left because the neighbor, a shoemaker, told them that no one was at home.
In December 1938, the death of Dora and Clara's father coincided roughly with my grandparents' approval to leave for the United States. They left in January 1939, but Dora's paperwork was not ready, and she had to stay behind. My mother once said that Dora had stayed to take care of her father, and this is alluded to here:
"My Aunt Dora still had not received her affidavit and, therefore, could not make arrangements to leave Austria. (It apparently was very difficult to provide these affidavits here in America. While my father's family was able to get them for us, there were apparently insufficient guarantees to include her. She had two brothers and several cousins here. It took all their efforts to provide affidavits for her and my Aunt Salka and her husband who were in Switzerland. This, however, did not occur until we were already in America. By the time her papers were ready, they were of no use. She had married, for companionship or to save another soul who could come with her to America as her husband. It did not matter. The process had to be started again. By that time we had lost contact with her, never to hear from her again."
My grandfather had died on December 14th and thus blessedly relieved her of taking care of him or having to worry what to do if he still lived when she was ready to leave."
Please excuse me if all of this has been too long for the reader. What it says is that my grandparents took care of their parents and of Dora, and that she took care of them, until they had to leave without her. My older uncle did not attribute to her the strong personality with which he described his "new mother", but the children knew her. She was there.
Someone, my mother or George, said that she was living in my grandparents' building when they left—or rather my grandfather had traded that building for some factory equipment, which was sent ahead to the US, and for some kind of protection for Dora.
According to the Yad Vashem database Dora was deported to Minsk in transport 12 on the 28th of November 1941, from an address at 21/27 Türkenstrasse in Vienna's 9th District. She even had a prisoner number, 849. Here is the Yad Vashem link that details Transport 12, https://deportation.yadvashem.org/index.html?language=en&itemId=7003403 Dora was murdered on May 20, 1942.
Here is a section of the new Holocaust Memorial and, at the bottom of the lower photo, Aunt Dora's name.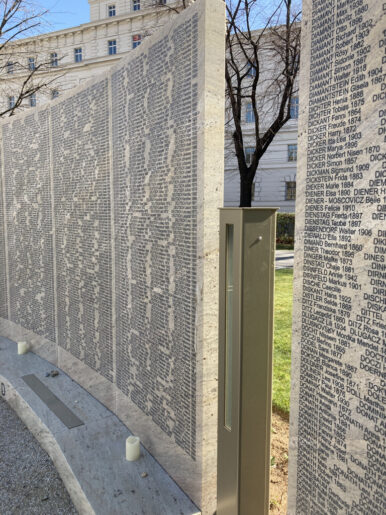 And below, hauntingly, is the building at 21/27 Türkenstrasse. There are memorial plaques on the pavers outside, one generally for the 35 people who were deported from this building. Four others, for individuals, one of whom was sent to Minsk on the same date. Why was Dora here? Was she forced to move here? Did her husband live here? I do not know.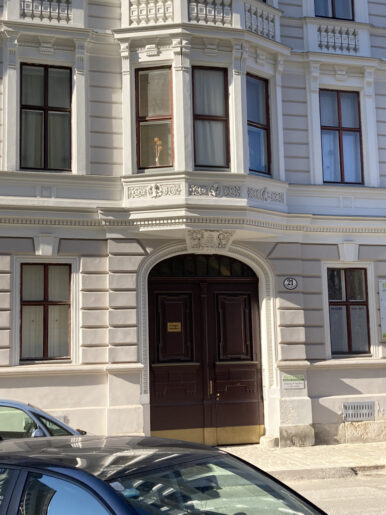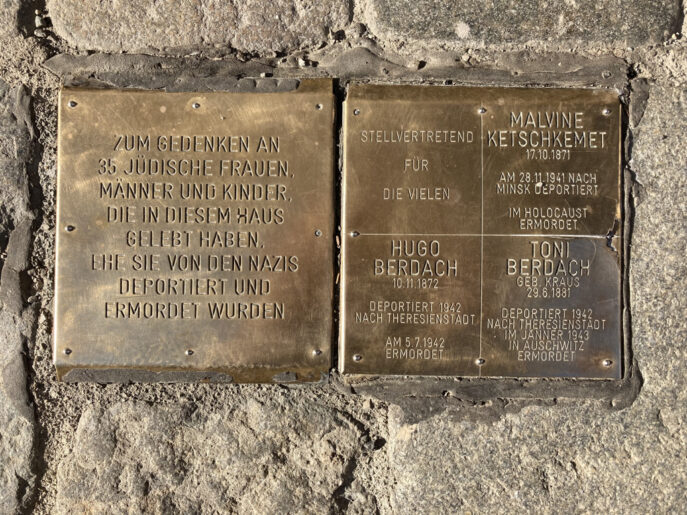 Both George's memoir and our mother spoke of their mother Clara's grief and guilt at her disappearance. She had been saved, and her sister had not. She had married the man that she intended for her sister, and consequently the sister had not lived. This is perhaps why Dora, in some sense, had to be forgotten. Or more precisely, forgotten by my mother, who was only 11 when she left Austria—and who said very little about her except that she had disappeared.
And so I've come back here, Dora, to acknowledge your existence, even though I cannot know you. You had a family; you were not forgotten, and you exist here again, through me.
A side note: There was a bit of difficulty matching Dora Diamant to her Landau family. However, as noted, the archivist located a Dora Landau who was married to Zalel Diamant in 1920 and divorced in 1921. She was born in 1895 in Tysminiza/Stanislau. Stanislau is now known as Ivano Frankivsk, and Tysminiza is to its east. Uncle George notes that both Grandfather Leib Landau and Clara Landau, his mother, were from Jaslowitce (now known as Pomortsky), a bit further east. (Spellings for these towns vary with the source.) Both Tysminiza and Jaslowitce are southeast of Lemburg (now known as Lviv).