Most readers will remember that a proposed rezoning of Midtown East failed under the Bloomberg administration. Mayor De Blasio formed a Midtown East Steering Committee to improve on the plan, which is based on a perceived need for tall, modern, office buildings, with large floor plates.
Are huge office towers really needed?    The demand for this kind of additional space was not researched or critically examined, at least this information was not shared with the public.  Furthermore, City Planning has not released graphic representations of the visual impacts of the new buildings.  Tall office towers are already being developed around Ground Zero and in the Hudson Yards.  In the latter, development of available sites is still incomplete, requiring ongoing subsidies from the city to pay for the #7 line extension and other needed infrastructure.
Midtown East is already very crowded, so the rezoning assumes that high rise development must be incentivized by allowing substantial additional density, specifically around Grand Central Station and generally, in an area bound roughly be 40th and 57th Streets and by Fifth and Third Avenues.  The permitted floor area ratio (FAR) will roughly double, in some locations, from the current maximum of 15 x the lot size to 28-30.
The new tower under construction on Vanderbilt Avenue and directly across from Grand Central, is a prototype of the huge buildings that this rezoning will encourage (five blocks of Vanderbilt Avenue having already been rezoned).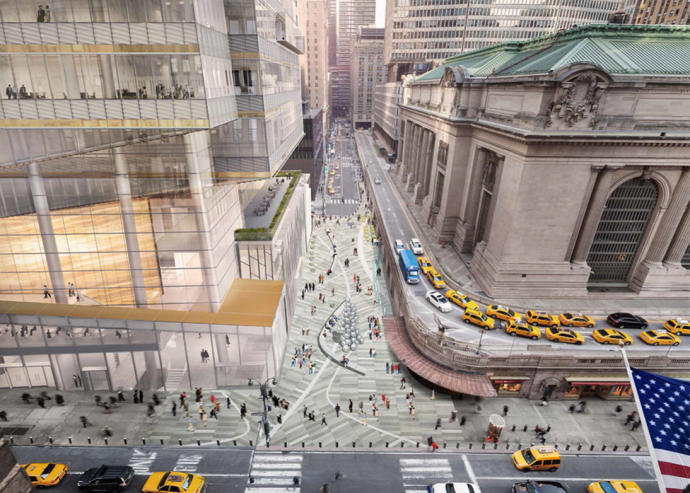 Photo credit:   Kohn Pederson Fox Associates PC
Based on findings in the associated Environmental Impact Statement, the proposal presumes that increased density will necessitate improvements to subway stations, but also that additional trains will not be needed.  This finding is surprising given constant crowding and delays in the transit system.
The Steering Committee, headed by Manhattan Borough President Gale Brewer and City Councilman Daniel Garodnick, and including the Landmarks Conservancy and other civic organizations, submitted their recommendations in a written report, which was sent to City Planning, as a guide to actual revision of the zoning ordinance. http://manhattanbp.nyc.gov/downloads/pdf/East%20Midtown%20Report%2010-13-15.pdf
The present proposal is favorable to historic buildings, allowing existing landmarks, and eleven new landmarks to sell unused development rights to developers, over a broader, midtown, geographic area.   At present, transfer rights are strictly limited.  Landmarks that will benefit from these changes include Grand Central,  St. Patrick's, St. Bart's,  Central Synagogue and Lever House. The transfer sales will be taxed, to help pay for related transit improvements.  However,  a number of the plan's provisions are flawed or in contradiction to the intent of the Committee's report.
The City Club, of which I am an active member, is taking a leading role in pointing out the weaknesses of the current plan.  At the heart of its critique is the observation that the rezoning is neither based on clear research nor a comprehensive plan that accounts for transportation and open space.  Following are a few specific criticisms and links to more detailed memoranda.
John West summarizes City Club's various objections at a City Planning public hearing.   E Mid Crit II – City Club – 2
The proposed plan significantly weakens existing light and air regulations.  Michael Kwartler presents the long-term visual impact of the plan, using a section of Madison Avenue as an example.  Here is a link to some of his work: http://campaign.r20.constantcontact.com/render?m=1102513747083&ca=c0d4994b-1185-4c9d-a769-6ecbbda6ede6
Creation of new open space will require a special permit and is a lower priority than transferred development rights or subway station improvements.
Not only avenue, but also mid-block density will be substantially increased, permanently changing the character of existing and varied Midtown cross-streets.
Transit improvements are funded by developer payments in exchange for the increased density.  These payments further increase the density developers will require for profitable buildings.  Furthermore, this "zoning for dollars" is illegal and jeopardizes execution and enforcement of the plan.  See Michael Gruen's explanation attached.   East Midtown is for People Too 5-12-17 (1)
The rezoning proposal is now moving towards approval,  with City Council hearings scheduled for June 20.