Recently, in order to price a wide, multi-family Village townhouse,  I considered sales of other multi-family and ready-to-build townhouses and compared these to recent sales of wide, 1-2 family houses.
Ready-to-build refers to two houses on prime blocks in the West Village, which sold last year with architect's plans and Landmark's approval in place.  The higher price was for a superbly located Victorian house at 64A Perry Street (photo below), which sold for $13,250,000, or $2,880 per planned square foot.  The other sold last year for $7,900,000, or $1,580 per planned square foot, on an excellent block of West 11th Street, between Waverly and West 4th Streets.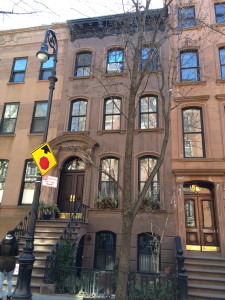 Multi-unit townhouses had three or more apartments, and were often sold for immediate conversion to their highest and best, single-family, use.  Most of these are located on good townhouse blocks in the West Village, although a few are at more commercial addresses, like Hudson Street, or east of 7th Avenue.   These transactions, one current and the balance from 2013, closed from $1,089 to $1,473 per square foot.  In this category, both of the highest prices were for houses with rent-regulated tenants.  One sold for $6,100,000 ($1,473/SF), a six-unit, 18′ house on charming, curved, Morton Street, and it had two rent-controlled and one rent-stabilized apartment, as well as a vacant duplex and a vacant penthouse.  The other house is on West 11th Street, between 6th and 7th Avenues.   It was last asking $6,750,000 ($1,127/SF), and it has four rent-stabilized units.  A contract has been signed.  Note the differences in the prices per square foot.
The four single/two-family houses I reviewed were all at least 20′ wide.  They sold in 2013 from $10,050,000 to $15,940,000 or from $2,145 to $2,867/SF.  Two of these were Gold Coast addresses, on 11th Street between 5th and 6th Avenues.  But higher prices at $12,500,000 ($2,867/SF) and $15,940,000 ($2,277/SF), were for renovated single-family townhouses on West 4th Street and Waverly Place, reflecting a preference for charming West Village blocks.
Prices per square foot are based on size estimates from the broker, the floor plan, or the public record.
Larry Sicular & Lisa Gustin
Brown Harris Stevens